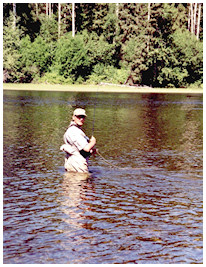 Eye to eye with the salmon! Who has been there, knows what I am talking about and it will get you too. The Canada fever!
My first trip to Canada was in 1999 and after long deliberation, I decided to book with Michael Schneider / Trembleur Fishing Adventures. What really won me over was the idea of the mobile accommodation during the salmon and steelhead fishing with Michael's nice Travel Trailer. River conditions can change quickly, and so did we. That was the best decision I could have done. I can not describe this feeling when I hooked in to my first salmon. The first jump and seeing that very large fish at the end of my line, I think my heart stopped right there. Since we fished barbless the tension was very high not only on my line, but also inside me. "I hope I don't loose him". Every fish I landed and held in my hands simply made me happy. And nothing tops a fresh salmon steak done over the fire. I enjoyed this trip very much and Michael made me feel right at home.
In 2000 I had to bring my friends and we came back to Michael. All seven (7) of us. I must have excited everyone with all my pictures, stories and video so much, that they had to see it for themselves. Everyone didn't just catch fish but also the famous Canada fever.
Peter Flutka - Austria