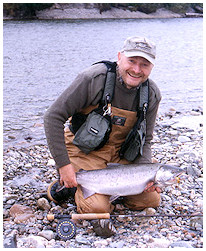 This is also a very important point, why I decided for Trembleur Fishing Adventures (see note below), you are always fishing in small groups and in company of a knowledgeable guide like Michael or one of his guides. If a river comes up or has not many fish, they just hook up the comfortable holiday trailer and move on to better waters. If you want to get up early, the smell of coffee will awake you at 4:30 am. When you come back at 10:00 pm totally fished out, Michael gets in front of the stove and prepares something delicious. The service is simply fantastic.
His fishing knowledge is right up there. He knows his waters like the back of his hand and I can only recommend to always listen to his hints and tips.
I still haven't told you about Trembleur Lake. The fly fishing and trolling for big rainbows and lake trout, the dolly varden and the masses of sockeye salmon at the creeks that put you in awe and make you forget to fish.The breakfast that can last all day, the fresh cakes and breads, Manuela's cooking and and and.....I tell you what, just go and see for yourself.

Dr. Wolfgang Stoltenberg - Germany
NOTE: Prior to 2011 we were known as Trembleur Fishing Adventures, but for 2011 we have rebranded as BC Fishing Adventures.